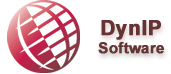 What is Dynamic DNS?
Better yet, how can it help me?
It might be a business benefit, or the convenience of home use. Whatever the reason, more of us want our own personalized Internet address to create:

a personalized e-mail address (eg. me@yourdomain.com)


a website using your own domain (eg. www.yourdomain.com)
More of us are also looking for a way to get access to information from one computer, while we're using another in a different location. Technically, it's called 'remote access,' and it has lots of practical uses, like helping you retrieve a file from the computer in your office, while you're working from another computer at home or on the road.

Not all computer Internet connections are the same. That's why you might not have what it takes to maximize your use of the Internet.

DynIP – the simple and economical way to enhance your Internet connection


Internet
Features
Static IP
Address

Dynamic IP
Address

Dynamic IP Address
WITH
DynIP
If you
Manage a
Business Network
ISP
controlled
e-mail
Manage
your own
e-mail server
Use DynIP's E-mail Safeguard for critical backup support
Remote
Access
Use DynIP to connect remote offices seamlessly
Run your
own web
server
Use DynIP for economical website & network management options
Manage your
own domain name
Use DynIP for cost-effective domain name management
Printed from: /main/ns/1/doc/81/lang/EN
on Friday February 03, 2023
© 1996-2023, CanWeb Internet Services Ltd.