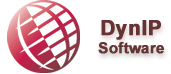 Excerpt from Windows XP in a Nutshell
Published by O'Reilly & Associates, 2002


....If you don't wish to the the directory service, you can have others connect to you by providing your IP address. To find out what your IP address is, select About from NetMeeting's Help menu or use the Windows IP Configuration, described later in this chapter. If you have a dynamic IP address, you can use a service like DynIP (http://www.dynip.com) or HomeIP (http://www.homeip.org) to associate a domain with your IP address, a link that is updated every time you connect to the Internet......



Printed from: /main/ns/127/doc/96/lang/EN
on Sunday December 04, 2022
© 1996-2022, CanWeb Internet Services Ltd.