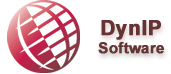 DynIP Pro Service
Improve your use of the worldwide web by accessing the resources that will move you far beyond the limits of your internet service provider. DynIP's proven and reliable Pro services featrues include:


A personalized website domain name (like, www.yourdomain.com) (InterNIC domain name registration fees are not included with the Pro Service).



Unlimited aliases (or wildcard alias) for your machine (like www.yourdomain.com, ftp.yourdomain.com).



MX records that allow you to receive email for any user under your domain (anyuser@yourdomain.com) if you are running a mail server.



Our unique Domain Manager feature capabilities.



Free technical support and subscription assistance from the people who pioneered dynamic DNS technology and continue to lead the field in service innovation.



Upgrade credits for the balance of your Pro subscription, when you upgrade your DynIP subscription to the DynIP Enterprise service. Upgrading is easy and you can do it any time! No additional downloads are required. The expanded features are activated on your existing registration key.



30 day risk free - Try the DynIP Pro service and if you are not completely satisfied within 30 days we'll refund your money.



4 easy steps to get you on your way to using your own domain
Printed from: /main/ns/137/doc/74/lang/EN
on Wednesday October 04, 2023
© 1996-2023, CanWeb Internet Services Ltd.