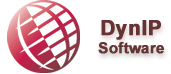 DynIP Feature List
---

Dynamic DNS Service
DynIP performs like a static IP address when it connects to the Internet by resolving your Internet Name to your current IP address. Find out how DynIP can help you get more from your Internet connection.



Domain Manager
This unique-to-DynIP feature makes it easier for you to manage and customize your domain name settings. The Domain Manager includes unlimited aliases (or wildcard alias) for your machine (like www.yourdomain.com, ftp.yourdomain.com) and MX records that allow you to receive email for any user under your domain (anyuser@yourdomain.com) if you are running a mail server.



Multiple Domain Support
Additional domain names can be added to your subscription and all the domains will point to the same IP address when you are online. Using the Domain Manager you can maintain your aliases and mx record for each domain.



E-mail SafeguardTM
E-mail SafeguardTM puts DynIP's high-capacity servers on alert to help manage your e-mail deliveries 24/7. When you're off-line, your incoming e-mails are safely and temporarily stored on our secure servers. Then, they're automatically forwarded to you when you're back online. There are no file size penalties or restrictions and we'll support as many e-mail boxes as you need.

It's easy. It's peace-of-mind reliable. It's available at a super price you'll gladly compare. It's included with any DynIP Enterprise Edition subscription!



Corporate Pack License
Save time by customizing your DynIP Client configurations to multiple computers. Assign registration keys to a single technical and billing contact and avoid the hassles of having to track individual accounts (ideal for keeping track of branch offices)



Web Port Redirection (http relay)
Redirect HTTP (web) requests to a different port. Normal web requests are sent to the standard http port 80. Your web server must be configured to accept requests on the specified port.



Mail Redirection
Redirect mail requests to a different port. Your mail server must be configured to accept mail on the specified port.



Offline Redirection
Specify a back-up computer to direct visitors to if your main computer is offline or specify DynIP's default offline web page.



Runs as a Service
The DynIP Client can be installed as a Windows NT Service. This allows the Client to run when no one is logged in.



Wildcarding
Any name in front of your DynIP Internet Name (e.g. www.myfastpc.dynip.com) automatically resolved to the same IP address as your DynIP Internet Name.



Time Set
The Time Set option allows you to automatically synchronize your computer's internal clock with a number of time servers on the Internet.



Clock
Display a real-time clock on your desktop. The Clock allows a customer on dial up to have the client display the connection charges and the total connection time to your Internet Service Provider.



Keep Alive
Keep Alive allows a customer on dial up to have our client send requests to their ISP to keep a connection open. This prevents the ISP from automatically disconnecting a user when the system is on and idle.



Online Support Tools


DynIP provides a number of resources to assist you in getting the most out of your DynIP Service. From the DynIP Client User Guide, online Knowledge Base, online Online Tool Kit (includes Account Status, Whois Query, Ping/Traceroute, Port Checking)and our free email and telephone technical support we will assist you in getting the most out of your DynIP Service.



AutoConnectTM

Use AutoConnectTM to pre-schedule specific times of the day when you computer will automatically connect to the Internet for remote access functions. Cable modem customers can also take advantage of the AutoConnectTM feature to control the time your computer is available to the Internet.



Printed from: /main/ns/140/doc/88/lang/EN
on Sunday June 04, 2023
© 1996-2023, CanWeb Internet Services Ltd.