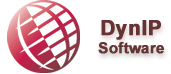 Acceptable Use Policy
Please read this Acceptable Use Policy carefully. Your use of any service or product provided on this Site will constitute your agreement to comply with the DynIP Acceptable Use Policy.

All users who have an active Internet Name registration with DynIP must adhere to the following rules and regulations:
When registering an Internet Name you must supply your real first and last name.


Aliases or handles are not acceptable.


When registering an Internet Name you must supply a valid email address. We need to supply you with important information regarding your registration, and therefore, you MUST provide us with a valid email address.


Internet Names must not be prejudicial or offensive in nature.


Referring to or sending Unsolicited Commercial E-mail or Newsgroup postings (spam) from a DynIP Internet Name is not allowed.

If your Internet Name registration information is in conflict with this policy, you will be sent an email message informing you that you need to make the necessary changes to your account information.

DynIP Internet Names referred to in UCE (spam) complaints, phishing or other illegal or fraudulent activities will be immediately terminated without refund.

Please note that DynIP reserves the right to refuse or remove an Internet Name registration at any time, without refund if it feels that it is in violation with the above policy.

Submit abuse reports to: abuse@dynip.com

Printed from: /main/ns/8/doc/11/lang/EN
on Tuesday October 03, 2023
© 1996-2023, CanWeb Internet Services Ltd.